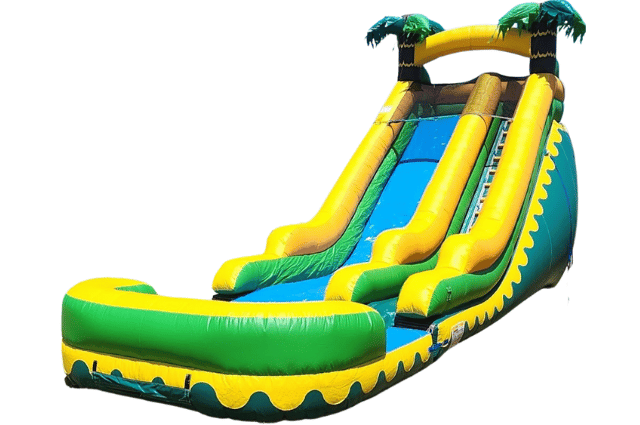 Giant Tropical Splash 21 Foot Water Slide
Setup Area: 35 L x 11 W x 22 H (Feet)
Outlets: 1
Age Group: 5 and up
Attendants: 1 Adult required for supervision at all times!




Thrilling Giant Tropical Splash 21 Foot Water Slide
Step right up, thrill-seekers, sun lovers, and people of all ages who like to have fun in the water! Look at the Giant Tropical Splash 21-Foot Inflatable Water Slide. It's the best thing to have in your backyard for a summer of unbeatable, heart-racing fun.
Imagine a 21-foot-tall structure that shines in the summer sun and is just ready to add a splash of excitement to your day. The Giant Tropical Splash is more than just a water slide; it's a ride, a trip, and an adventure all in your own backyard!
But our slide isn't just about how big it is. Its tropical style brings a bit of a faraway paradise into your home. With bright colors like azure, emerald, and sunset orange, it's meant to make you feel like you're on an island. It quickly upgrades any party, whether it's a simple family BBQ or a kid's birthday party.
You ask, "What about safety?" Don't worry! The heavy-duty, puncture-resistant material used to make the Giant Tropical Splash 21 Foot Inflatable Water Slide makes sure that playtime is safe and worry-free. It is a fortress of safety because it is built well and has a long cushion at the end of the slide to make landings soft. Not only that, but the strong anchoring stakes that come with the slide keep it in place, giving parents peace of mind while kids (and adults) have hours of fun in the water.
Now, let's talk about what it's like to slide. As you climb up the handles that are easy to hold, the thrill builds. As you reach the top of the slide, you can almost hear the faraway echo of tropical birds. Then you take a deep breath and go! You'll feel like you're flying down the slippery slide as waterfalls all around you. The best part of a thrilling ride is splashing down into the big pool at the bottom.
Huge Slide for Big Events!
Get ready for a splashing good time with our giant water slide rental! Perfect for all kinds of events, from backyard birthday parties to school festivals, and any summer event our water slide is sure to be a hit. It's the ultimate way to beat the heat and make a splash this summer. Book now and get ready to slide into summer fun!

Giant Splash Pool Landing
Looking for a fun way to cool off this summer? Look no further than our giant water slide with pool area! With its towering height and thrilling drop, this slide is sure to get your heart racing. And once you reach the bottom, you can splash around in the refreshing pool area, making memories that will last a lifetime. So come on down and join the fun!
Safety should always be a top priority when it comes to water slides. It is important to ensure that the slides are properly monitored, the rules should be allowed and enforced at all times. One at a time on the slide area, bottom sliding only, no double rides. Clear the pool area after you've gone down.

Safety Rules
1 Adult should always be supervising the kids when they are in the inflatable.
Please limit it to 1 kid sliding down at a time per slide.
Always slide down feet first.
The age limit is 3 and up.
All participants must be the same size and weight.
No Flipping/jumping down the slide.
No jewelry or sharp objects.
The minimum height is 42 inches.
The weight limit is 200 pounds per person.
The overall maximum weight in the unit is 800 pounds.
Do Not operate any inflatable in high winds.
Never play in an inflatable when it's raining.
Make Your Reservation with Angels Party Jumpers Today
Book your party attraction via our online ordering system today! Remember also to browse our other inventory: water slides, obstacle courses, and bounce houses with slides!