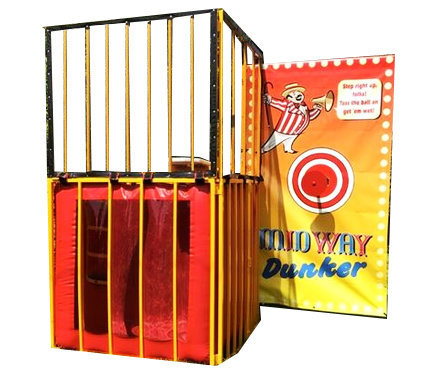 Carnival Dunk Tank
Step Right Up to Our Midway Dunker Dunk Tank
Our classic dunk tank rental will wow your guests! They will scream with excitement after the first person gets dunked! Who will be the first to land the ball on the target? Our dunk tank is great for any event type. School event? Hey, let's dunk the principal! Company party? How about we send the boss to sit and be the next guest on the hot seat? Is the family reunion coming up? How about your next church event or fundraiser? A dunk tank is a well-liked game at fairs and other events that has several features and advantages. The design of a dunk tank, which typically consists of a water-filled tank with a seat suspended above it, is one of its key characteristics.
Participants take turns attempting to strike a target with a ball; if successful, the target releases the seat and throws the occupant into the water. The benefits of a dunk tank include providing entertainment for both participants and onlookers, as well as being a great way to raise money for charity events. It is also relatively easy to set up and can be used at a variety of events, from school carnivals and community fairs to corporate picnics and fundraisers. Additionally, it can be enjoyed by people of all ages and abilities, making it a versatile and inclusive activity for any event.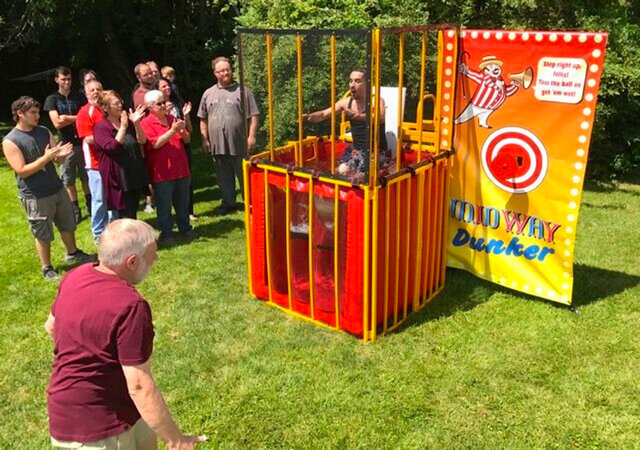 Dunk Tank Midway Dunker includes:
Powder-coated, steel frame that folds for compact storage
450-gallon, rugged vinyl liner with window and heavy-duty attachment straps
High-density, UV-resistant seat
One (1) 7" steel target
Twelve (12) balls
Colorful target canvas
Heavy-duty, built-in dolly
Make Your Reservation with Angels Party Jumpers Today
Book your party attraction via our online ordering system today! Remember to also browse our other inventory:
water slides
,
obstacle courses
, and
bounce houses with slides
!