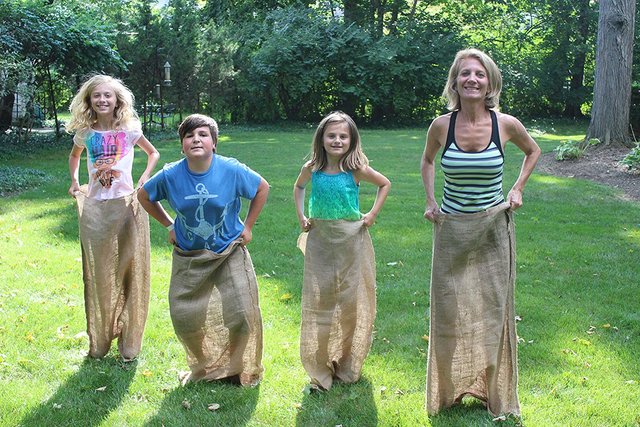 6 total Potato Sacks
Outdoor Lawn Games for Kids & Adults
Looking for a fun activity for your next event? Look no further than our Lawn Sack Racing game! These 24x40-inch burlap bags are the perfect size for kids and adults alike and can be easily rolled down for smaller children. Our burlap sacks are not only fun and entertaining, but they're also environmentally friendly. Made from 100% natural jute, one of the most eco-friendly materials available, these sacks are completely biodegradable and will decompose naturally when discarded. The large Sack Racing game is perfect for all ages and skill levels. The bags are large enough to reach the waist of a 6'-tall adult, making them a great choice for events with a mix of ages and sizes. Plus, it's a fantastic way to get people up and moving, and it's a great way to break the ice and get people interacting with each other.
So whether you're hosting a family fun day, a company picnic, or a community event, our Large Sack Racing game is the perfect addition to your entertainment lineup. It's a great way to have fun while also being kind to the environment. We're committed to providing high-quality equipment and exceptional customer service. That's why we use biodegradable materials and packaging for our Large Sack Racing game, ensuring that our customers can enjoy their event without worrying about their impact on the environment. So why wait? Contact us today to learn more about our party rentals and to book your Large Sack Racing game for your next event. We're here to help make your event a success, and we're committed to doing it in an eco-friendly way!

Make Your Reservation Online Today
Book your party attraction via our online ordering system today! Remember to also browse our other inventory: water slides, obstacle courses, and bounce houses with slides!