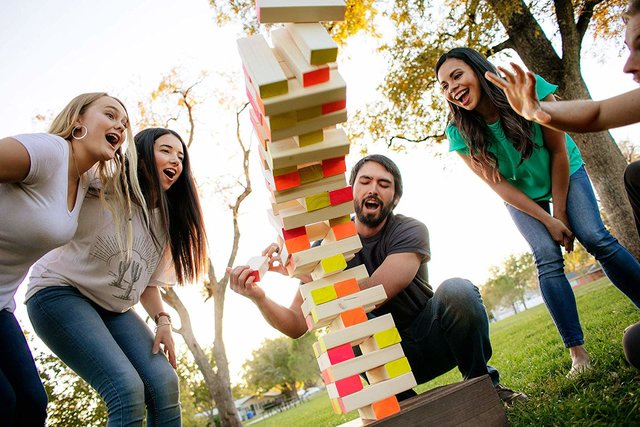 Giant Jenga Color Block Stacking Game
Giant Jenga Yard Game
If you're planning an outdoor event and looking for a fun and engaging activity that will keep your guests entertained for hours, consider renting a giant Jenga game. This classic game of skill and strategy has been super-sized for even more excitement and challenge.
Our giant Jenga game comes with oversized wooden blocks that are carefully crafted to be sturdy and durable, making it perfect for outdoor events. The blocks are arranged in a tower formation, and players take turns removing one block at a time and stacking it on top of the tower. The game continues until the tower falls, and the last player to successfully stack a block wins.
The giant Jenga game is perfect for all ages and can be enjoyed by both kids and adults. It's a great way to bring people together and encourage teamwork and friendly competition. Whether you're hosting a family reunion, corporate event, or birthday party, our giant Jenga game is sure to be a hit.
Our Jenga game rental includes everything you need to get started, including the oversized wooden blocks and a carrying case for easy transport. We can also provide instructions and guidance on how to play the game, ensuring that everyone has a fun and engaging experience.
At the end of the day, the giant Jenga game is a perfect way to create lasting memories and provide a fun activity for your guests. Rent our giant Jenga game today and get ready for hours of fun and excitement!


Why choose our awesome Giant Jenga yard game?
A classic game that's been around for years
Ease of use and safe
Stacks up in minutes
Fun for all ages
Make Your Reservation with Angels Party Jumpers Today
Book your party attraction via our online ordering system today! Remember to also browse our other inventory: water slides, obstacle courses, and bounce houses with slides!