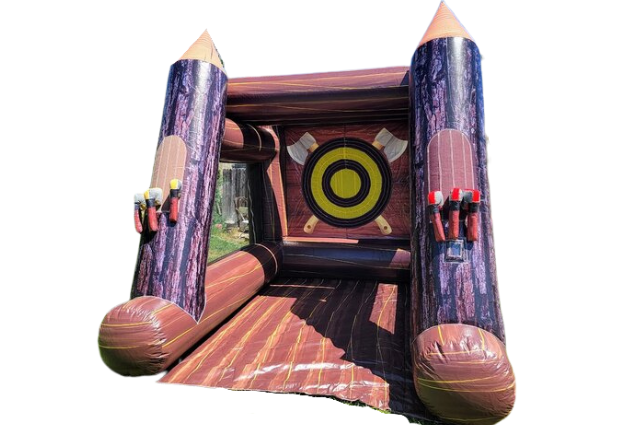 Axe Throw Game
Actual Size: 10ft x 7ft x 6ft
Setup Area: 11ft x 8ft x 7ft




Axe Throw Game



Step right up and test your axe-throwing skills with our Giant Inflatable Axe Throw Game! This exciting and challenging game is perfect for anyone looking for a fun and engaging way to spend their time. The Giant Inflatable Axe Throw Game features a giant bulls-eye target, measuring over six feet tall, that provides a fun and challenging target for two players to throw their axes at. Each player gets to throw three axes at the target, with the goal of hitting the center bullseye for maximum points. But that's not all! The unit also features a log digital print, giving it a rustic and natural look that will make you feel like you're throwing real axes in the great outdoors. Two players throw 3 oversized velcro axes at the target, making it a great addition to any outdoor event or party. So what are you waiting for? Grab a friend and step up to the line for some friendly competition. Whether you're a seasoned axe-throwing pro or a first-timer, the Giant Inflatable Axe Throw Game is sure to provide hours of entertainment and excitement. With its durable construction and high-quality materials, this game is built to last and can withstand countless hours of play. And because it's designed for two players, it's perfect for family gatherings, parties, and team building activities. So if you're looking for a fun and engaging way to stay active and entertained, look no further than the Giant Inflatable Axe Throw Game. With its unique design and challenging gameplay, it's sure to be a hit with players of all ages and skill levels.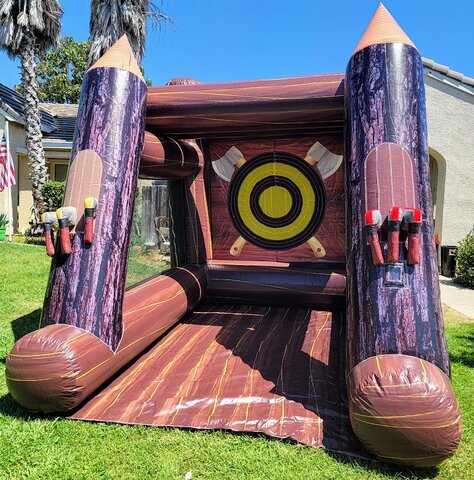 Make Your Reservation with Angels Party Jumpers Today
Book your party attraction via our online ordering system today! Remember that we've also got water slides, obstacle courses, and bounce houses with slides!